The App
OptOut is the first news aggregation app for exclusively independent media. The app, which launched in early 2022, unites independent outlets and gives news consumers a refreshing, fully independent media ecosystem—100% free from corporate media narratives.
Unlike most news apps, OptOut seamlessly integrates articles, podcasts, and videos from our more than 150 participating outlets. The news is hand-curated by journalists, not determined by profit-driven algorithms.
The app was developed by volunteers with the Progressive Coders Network, a nonprofit, nonpartisan progressive community of tech and non-tech activists building open-source tools to empower the grassroots and reduce the influence of big money in politics. Many thanks to our past and current team members: Kay Ablamsky, Taylor Beck, Jared Billig, Robert Diamond, Brian Ephraim, Reza Etezal, Sema Hernandez, Lori Paulson, Stephen Scapelliti, Chris Sculnick, Matthew Smith, Rob Watson, Noah Williams, and Rebecca Vitale.
Jake Varghese, a talented developer, activist, and skilled policy wonk who built our initial backend, passed away in late 2021. We are grateful for his hard work. We miss you, Jake.
News Curators
Trevor Beaulieu, host of Champagne Sharks podcast
Walker Bragman, OptOut co-founder, Daily Poster reporter
Alex Kotch, OptOut co-founder, investigative reporter at the Center for Media and Democracy
Jacqueline Keeler, author and founder, Pollen Nation Magazine
Samira Sadeque, immigration reporter and poet
Michael Sainato, labor reporter
In the News
Means Morning News: What Is OptOut?
Brick House: New App Helps You Opt Out of Corporate Media
Chompsky: Power and Pop Culture: Opt In to OptOut: the New Independent News App
The Rational National: A New App For Independent Media
Ring of Fire: Fighting Corporate Narratives And Uniting Progressive Voices
OptOut Originals
We publish a free weekly newsletter with content from outlets in the OptOut network. In the future, we'll also publish additional newsletters, original reporting, analysis, and podcasts produced by OptOut.
The Foundation
OptOut is a project of the OptOut Media Foundation, a 501(c)(3) nonprofit charity founded by independent journalists Alex Kotch and Walker Bragman in 2020 and based in Brooklyn, NY.
Our mission is to educate the public about current events and help sustain a diverse media ecosystem by promoting and assisting independent news outlets and, in doing so, advance democracy and social justice.
Since we don't run ads, this project is funded entirely by individual donations and foundation grants.
Please support us with a small, tax-deductible monthly or yearly contribution.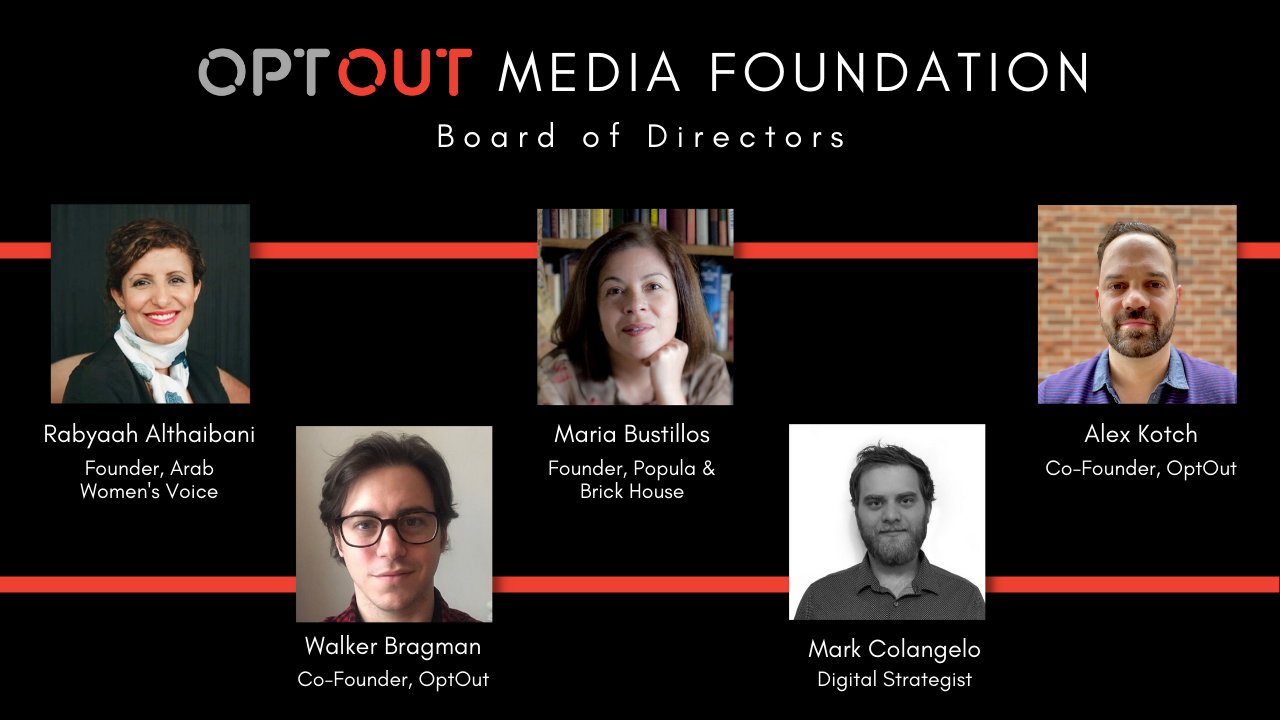 Thanks also to Lawyers for Reporters, Morrison & Foerster, and Proskauer Rose for their pro bono legal assistance.
---
Why sign up?
Subscribe to receive free weekly newsletters full of great content from our participating media outlets, stay up-to-date on all OptOut developments, and take part in user surveys.
Why should I become a paid supporter?
OptOut is currently transitioning from a volunteer operation into a sustainable nonprofit charity. We need money to build out a staff to curate your news experience, evaluate outlets, continue improving the app, increase our editorial content, offer free services such as communications and podcast production to independent outlets with limited resources, and lots more. We also have to pay for web hosting, other tech development fees, design, marketing, and fundraising.
We need your help to make this happen so we can deliver 100% independent media to you every minute. All contributions are tax-deductible.
Our Supporters
Since our founding, OptOut Media Foundation has raised money only from individual donations and a grant from The Puffin Foundation. We hope and expect to receive more foundation grants, but small donations are and will continue to be essential for our sustainability.
OptOut discloses all donors who give $500 or more in a given year.
2022
Individual donations

Scott Satterwhite: $50,000 (info)
Susan Sarandon: $1,000
2021
Individual donations: $26,343

Jesse Crawford: $10,000
Alex Kotch: $5,250
Ben Crawford: $1,000

The Puffin Foundation: $5,000
2020
Small donations of $100 or less: $5,195